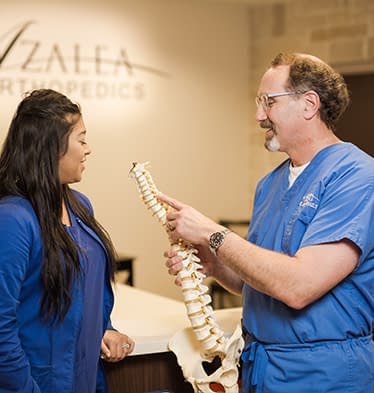 Office Hours
& Appointments
Office hours are 8 a.m. to 5 p.m., Monday through Friday. Patients are seen by appointment except in the case of emergencies. To avoid scheduling problems we suggest that you call in advance as far as possible to make your appointment. New Patients should report at least 30 minutes prior to their appointment time for registration purposes. Download and complete your patient forms in advance to save time. If you have any questions or would like to schedule an appointment call 903-939-7501.
Emergency Care
Accidents can and do happen! If you should need emergency orthopedic care after normal office hours, weekends or holidays, please call our office number 903-939-7500. One of our physicians is always on call to provide you with immediate medical care. You may also go to Texas Spine & Joint Urgent Care Center or the emergency room at East Texas Medical Center (now UT Health East Texas) or Trinity Mother Francis Hospital (now Christus Trinity Mother Frances), where one of our physicians will be contacted by the hospital.
Prescriptions
For prescription refills, please contact your pharmacist during regular office hours. The pharmacist will contact our office for authorization of your refill.
Insurance
Understanding your insurance coverage before the visit can head off any unexpected charges that result in additional cost to you. As a service to you, Azalea Orthopedics will file a claim on your insurance company. When scheduling an appointment, please check with an Azalea scheduling specialist to see if your insurance is in network with our clinic. Here's how you can assist us.
Call to see that Azalea Orthopedics is in Network with your insurance plan.
Do you know what your insurance covers? Call the number on your insurance card if you are not sure. As network providers, we are required to collect all copays, deductibles, and coinsurances. We ask for those at the time of service.
An important step in your care is to know what hospital, lab and pathology facility you are required to use through your insurance. Knowing this information will allow us to provide faster service.
Does your insurance require a referral? Most insurance cards that list a PCP physician name require an assigned referral with a unique number. Having this referral number is crucial for payment. Without this referral number, insurance companies will either pay out of network or not at all.
Don't forget to bring your insurance card(s) with you.
Self Pay
We offer several convenient payment methods.  Click here to access our secure Online Payment Portal. Qualified individuals can apply for   or as a payment option.
If you have any questions, please discuss them with our staff. For more information or questions call (903) 939-7777.